What People Are Saying
Thank you for the good service!
Most professional porta john company I have seen. They clean the restroom well, and the office staff knows what they are doing.
Have never attended a public gathering with porta potties that stayed this clean for this long. Wish this company did every public event! Ladies love clean bathrooms!
These are the nicest portable toilets I have ever used. Thank you for figuring out how to keep them smelling good! 10 out of 10 will definitely poop here again!
These were the cleanest bathrooms at a running race I have ever seen.
Great price and clean bathrooms. Friendly dispatcher.
No complaints from my guys. Keep up the good work.
Have some feedback of your own?
Phoenix Metro Portable Bathroom Rental Services
We want to be known for the cleanest restroom rentals, the most reliable service, and complete customer service. We stand on hard work and experience to ensure the quality you deserve. We are committed to building the loyalty of our customers one clean restroom at a time.
Popular Bathroom Rentals & Services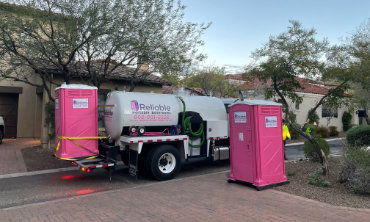 Tried, true, reliable and fits in just about any scenario.
More Details
Reliable… because we are

Top of the Line Equipment
We maintain our top of the line restroom rental equipment to the highest standards

Superior Customer Service
Reliable Portable Bathrooms strives to provide the best possible customer service

Pristine Cleaning Routine
Need the cleanest porta-potty in town? See the results of our 10-point cleaning routine

Transparent and Simple Billing
Clear, simple and fair rental and bathroom services from the quote to contract to invoice

Above and Beyond Services
We endeavor to provide the very best porta-potty rental experience from start to finish

Other's Add-ons Come Standard
Other restroom rental companies provide the bare minimum in their products and services… we're different

Your Time is Valuable
We know how important it is to be on time or even early and we make every effort to do so

No Compromise Attitude
Nothing would make us happier than to hear from you. Even if it means we get to fix something
Washroom projects in the Phoenix-metro area
Satisfied clients throughout Arizona
Combined years of successful experience in portable restroom rentals
Reliable Supporters of:

Reliable Associates With: